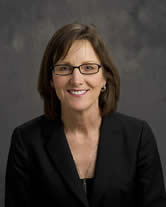 JoAnn is managing partner and president of Demeter LP, a privately owned grain and commercial warehouse business headquartered in Fowler, Indiana. With her expertise in management, JoAnne also serves on a variety of boards at local and national levels for consulting on finance, sports, agriculture and more.
Brouillette was an admissions counselor at Hanover College before beginning her career at Demeter, where she held various merchandising and management positions before assuming her current position in 1996.
She earned a Bachelor of Arts degree from Hanover College in 1983, majoring in business. Brouillette was appointed to the Board of Trustees for Purdue University in July 2006 and serves on the board of directors of Greater Lafayette Commerce and the Indiana Chamber of Commerce. Her local leadership also includes service as a trustee for the Lafayette Area Catholic Schools Foundation, and she is a member of the board of directors for Lafayette Bank and Trust. Additionally, Brouillette is a member of the board of directors for the Indiana Sports Corporation, Midwest Ag Finance, and the National Grain and Feed Association. Brouillette formerly served on the Governor's Council on Physical Fitness and Sports, the Indiana Ag Advisory Committee, and Purdue's Athletic Advisory Committee as well.
Brouillette's achievements include being awarded the AgriVision Award from the State of Indiana in 2010 and being appointed to the Advisory Committee for Trade Policy and Negotiation by President Bush in 2003 and again in 2005. She was also named to the Silver Anniversary Team of the Indiana Basketball Hall of Fame in 2004.